Store Opportunities
Good, loyal customers. Great, friendly associates. A little bit of excitement and fun. And a lot of chances to prove yourself and be recognized and rewarded for a job well done. You'll find all this and more at every one of our Kum & Go stores. Many of our positions have benefits and set schedules where you work the same shifts every week so you can easily plan your life! From our career paths to our shared success, join one of our store teams today and there's no telling what great things you'll be celebrating together tomorrow.
Store Career Paths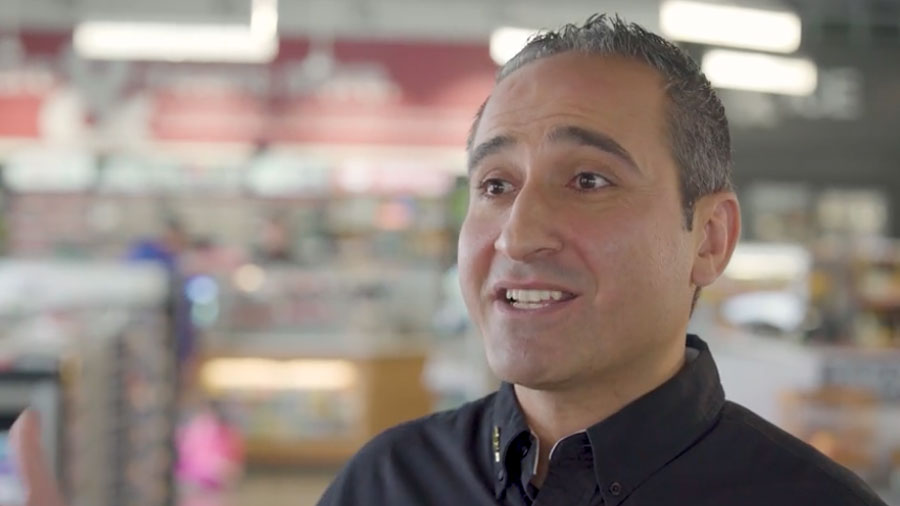 Store Career Paths
Are you ready to go as far as your friendly smile, great attitude, teamwork and individual achievements can take you? Through our clear career path, we promote exceptional, outgoing people who know how to go all out for our customers. If you are self-motivated, fun-loving, team-oriented and know how to get the job done in a highly energized, fast-paced environment, one of our store roles is perfect for you.
Watch

Food Manager

Video
Food Manager
Learn More

about Food Service Manager
Food Manager
Hungry for success? Our Food Manager opportunities allow you to grow your management career at a company known for its variety of fresh and convenient food options. Assisting the store General Manager, you will lead the food service team to ensure customers are happy and keep coming back for our tasty offerings and superior customer service. This role puts you on the fast-track for future Kum & Go store management opportunities. We strongly believe in promoting from within, and this is a great position to prepare you to become a General Manager.
See

Food Manager

Opportunities
See

Food Manager

Opportunities
General Manager
Watch

General Manager

Video
Learn More

about General Managers
General Manager
As a Kum & Go General Manager, it's your store and you'll be running the show in a multi-million dollar business. In this key store management job, you're in charge of everything from ensuring incredible customer experiences to keeping your team energized, organized, well-informed and having fun. Our store management careers are for enthusiastic leaders with an entrepreneurial, "can-do" spirit who know how to go above and beyond to serve our customers and connect with their team.
See

General Manager

Opportunities
See

General Manager

Opportunities
District Supervisor
Learn More

about District Supervisors
District Supervisor
As a District Supervisor, you have the exciting responsibility of directing the operations of a group of stores to make days better for our customers and associates. Developing and leading a strong team so your market can achieve the highest levels of customer service and financial success is the primary focus of the position. You'll lead a multi-million dollar business impacting millions of lives. This role is responsible for executing the company vision, and creating a great culture in our stores.
See

District Supervisors

Opportunities
See

District Supervisors

Opportunities
Store Flex Pool Associate

Store Associate

Store Associate – Food

Food Manager

Assistant Manager

General Manager

District Supervisor
Back to Page Navigation (Career Path in Stores)
To Next Section
Video: Store Culture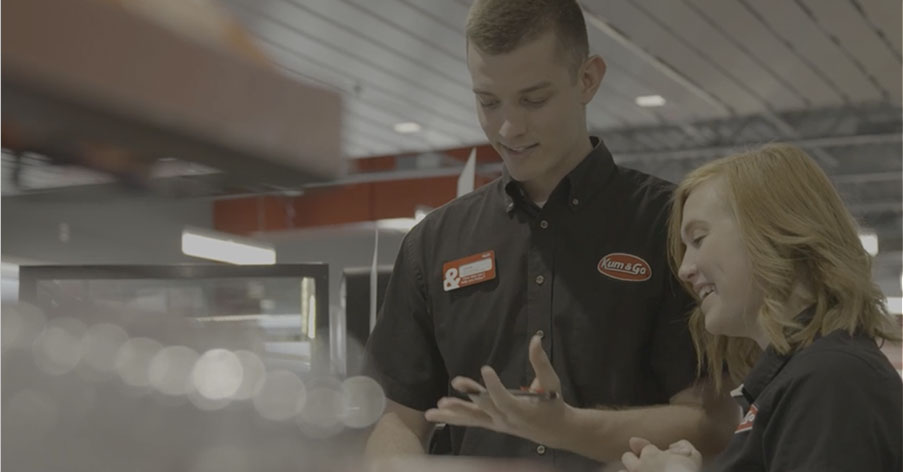 Interview Process
Let's get to know each other better.
The interview process allows us to get to know you, and you to get to know us! Your first step is to apply via this website.
Qualified candidates will then interview with leaders at a Kum & Go store – most likely a General Manager. Please come prepared to talk about your interest in working with customers, your work history and why you would be a great fit for the job! During the onsite interview experience, you'll learn about our culture, the position and team, and take a tour around the store. You'll have plenty of time to ask questions, so be sure to bring them!
Benefits & More
As a store associate, you're more than happy to go out of your way to do whatever it takes to make our customers happy, and we couldn't be more appreciative. Kum & Go is proud to provide our associates with the following benefits.
Sales Associate, Food Service Associate Benefits
Upon reaching eligibility requirements

Scholarships
Tuition Reimbursement

Holiday Premium Pay
Overnight Shift Premium Pay

Food & Beverage Discounts
Company-Provided Uniform

Employee Assistance Program
Gym Reimbursement
Sales Manager, Food Service Manager
Medical (upon reaching eligibility requirements)
Dental
Vision
Health Savings Account with Company Contribution

Scholarships
Tuition Reimbursement

401(k) with Match
Holiday Club

Food & Beverage Discounts
Company-Provided Uniform

Company-Paid Life Insurance
Company-Paid AD&D
Voluntary Life & Dependent Life Insurance
Flex Spending Accounts
Employee Assistance Program
Gym Reimbursement
General Manager
Medical
Dental
Vision
Health Savings Account with Company Contribution

Scholarships
Tuition Reimbursement

401(k) with Match
Holiday Club

Food & Beverage Discounts
Company-Provided Uniform

Paid Time Off
Floating Holidays
Maternity, Adoption & Parental Leave

Company-Paid Life Insurance
Company-Paid AD&D
Voluntary Life & Dependent Life Insurance
Flex Spending Accounts
Gym Reimbursement