Sales Associate - 10603 E 86th St N, Owasso, OK 74055, Owasso, OK
You're the friendly face and first point of contact for our customers. You'll partner with your store team to help create better store experiences, and make days better for our customers and each other. If you have what it takes to make our guests smile and keep them coming back, we have the job for you.
Apply
Success Profile
Are you ready to go as far as your friendly smile, great attitude, teamwork and individual achievements can take you? At Kum & Go, we hire and promote exceptional, outgoing people who know how to go all out for our customers. If you are self-motivated, fun-loving, team-oriented and know how to get the job done in a highly energized, fast-paced environment, a Kum & Go Sales Associate role is perfect for you.
Attributes we look for:
Customer
Focused

Enthusiastic

Helpful

Positive

Responsible

Team
Player
Quote
At Kum & Go, I know I have the chance every day to make someone's day better!

– Victoria, Sales Associate
Trending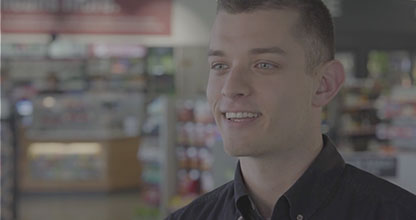 Stores Overview Culture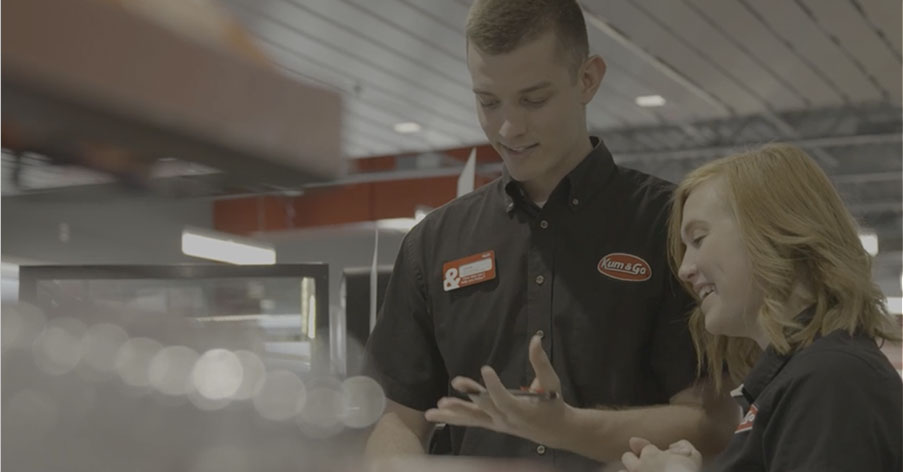 Sales Associate Day in the Life
Benefits
Healthcare

Medical (Upon reaching eligibility requirements)
Dental
Vision

Savings & Pay

401(k) with Match
Holiday Premium Pay
Overnight Shift Premium Pay
Referral Bonus

Perks

Food & Beverage Discounts
Company Paid Uniform
Responsibilities
Sales Associate
Job Location 10603 E 86th St N, Owasso, OK 74055, Owasso, OK
Job ID 99806
Do you enjoy a fast-paced atmosphere and have a passion for retail? Kum & Go is looking for Sales Associates who will be the customer's first point of contact and will provide fast, friendly customer service. The Sales Associate will partner with the store team to achieve our vision of becoming the #1 Convenience Retailer.
Additional Responsibilities include:
Engage with the store team to execute store goals.
Follow SOPs (register accuracy, cash counting, food safety, etc.).
Promote food service and special sales.
Stock, price and face products.
Maintain cleanliness inside and outside of store.
Display a positive attitude and promote teamwork.
Promote the Kum & Go vision and values internally and externally.
Exhibits professionalism in appearance, conduct and judgment.
Education/Experience:
High school diploma or GED preferred.  Customer service experience is a plus.
Minimum Skills and/or Knowledge Required:
Basic computer and math skills
Demonstrates a friendly, helpful customer service attitude
Strong interpersonal skills, including ability to adapt to change
Willingness to support food program and procedures
Ability to multi-task while maintaining high detail orientation
Strong drive for success
Broad availability to include nights, weekends and holidays
Regular attendance
Professional and approachable appearance
Ability to demonstrate core values; Teamwork, Excellence, Integrity, Caring, Passion
Physical Demands
The physical demands described here are representative of those that must be met by an employee to successfully perform the essential functions of this job. Reasonable accommodations may be made to enable individuals with disabilities to perform the essential functions.
While performing the duties of this job, the employee is regularly required to communicate in person and on the telephone. Associate may need to read computer monitor for long periods of time. The employee is frequently required to stand, walk, bend, stoop, crouch, and reach with hands and arms.  Stand for 10 to 12 hour days, 5 to 6 days a week / bend at knees, repetitiously (20-30 times a day), walk briskly, and shovel snow as needed. This position frequently lifts, carries, or otherwise moves and positions objects weighing up to 60 pounds and navigate in small spaces (cooler, back rooms and sheds). This position is exposed to occasional temperature extremes while performing work in a walk-in cooler or freezer.
Work Environment
The work environment characteristics described here are representative of those an employee encounters while performing the essential functions of this job. Reasonable accommodations may be made to enable individuals with disabilities to perform the essential functions. The noise level in the work environment is usually moderate.
Kum & Go is one of the largest privately-held, company-operated convenience store chains in the United States, and is headquartered in West Des Moines, Iowa. With approximately 440 stores across 11 states throughout the Midwest, we are distinguished from our competitors by our excellence in customer service. Our entrepreneurial company is taking progressive steps to increase how the brand is leveraged to support our tremendous growth. Kum & Go considers people to be their greatest asset…come join us!
Apply
Interview Process
Let's get to know each other better.
The interview process allows us to get to know you, and you to get to know us! Your first step is to apply via this website.
Qualified candidates will then interview with leaders at a Kum & Go store - most likely a General Manager. Please come prepared to talk about your interest in working with customers, your work history and why you would be a great fit for the job! During the onsite interview experience, you'll learn about our culture, the position and team, and take a tour around the store. You'll have plenty of time to ask questions, so be sure to bring them!